---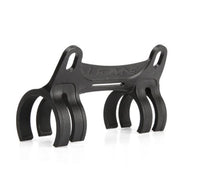 Lezyne Hand Pump Mount
Handy frame mount for Lezyne portable hand pumps. Replace a lost clip, or add them to your other bikes to share a pump. [This is an extra pump mount, when you purchase a pump it comes with one, so you do not need to purchase this unless you need an additional or replacement mount.]

Fits all High-Pressure (HP, Tech HP, Micro Floor HP/HPG, Pressure, Carbon Pressure Drives) and High-Volume hand pumps (HV, Tech HV, Micro Floor HV/HVG, Alloy, Carbon Drives) and . Includes Velcro pump strap.
Velcro strap included (not shown in picture)

Holds pump next to water bottle.
Mounting holes align with bottle cage screws.
NOTE: Lezyne hand pumps come with one mount. These are sold as replacements or additional mounts for your other bikes.